In that time living in the Netherlands, the Indo Glenn Pennock made contact with the Jokotole Naga Putih during the early eighties.
Glenn was at that time already a master in the Pencak Silat style of Derosemo.
This style, with the origins being from Surabaya, showed a lot of similaraties with the Pencak Silat styles from Madura and the orginization of the Jokotole Naga Putih had just decided to look for an international affliliation. After three internships in Madura, Glenn was allowed to represent the Jokotole Naga Putih in Europe.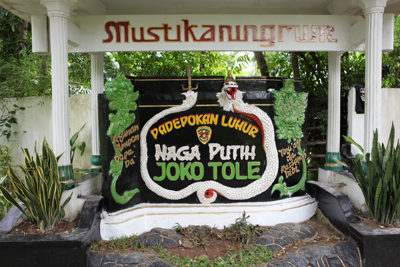 One of his first students was Paul Rovers, who already trained Pencak Silat from 1976.
Paul went to Madura in 1986 to train with the Jokotole Naga Putih and after Paul many students followed.
In 1994 Glenn stopped with Pencak Silat and Paul became officially Aliran (style bearer) of the Jokotole Naga Putih.
The Jokotole Naga Putih in the Netherlands still has a tight bond with the main school in Madura.
And every few years students still travel to Madura to have the possibility to train at the main school.
Did you know?
That in the Netherlands the Jokotole Naga Putih has their own training centre as one of the few Pencak Silat schools?
This training centre and also the main school for the Jokotole Naga Putih in the Netherlands is located in Haarlem. But next to that, lessons are also being given in Krommenie and Amsterdam.
Further more, in the Netherlands lessons are given in the traditional way just like in Indonesia.
Also, our new Pencak Silat Jokotole school in the Art of Chi in Zutphen-Eefde is connected with our main school in Haarlem.